Makerspace
The Makerspace is a space in the Gympie Library designed for hands-on creativity. This space can be used for creative ideas, problem solving or making things. It is a space for people to come together to use (and learn to use) different materials and machines.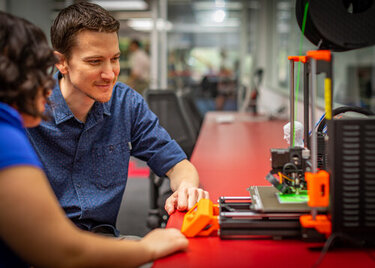 Everyone has access to new technology like:
virtual reality hardware and software
3D printers
state-of-the-art sewing machines
robotics
photo & negative scanner
It's an area for craft groups, coding and robotics classes, writer's groups, book clubs and 'tech savvy senior's' classes.
Opening Hours
The Makerspace is open to all residents:
Tuesday 9am-5pm
Wednesday 12-5pm
Thursday 9am-12noon
Thursday 3.30-4.45pm Robotics
On the first Thursday of each month from 1pm-2 pm, you can learn 3D printing. Any age is welcome. Please book by calling 5481 0859.
During school holidays and times other than those above, sessions can be booked through our website.
If you have a group that would like to learn any of the technology in the Makerspace, we can organise a class for you; phone 5481 0859 to book.
Other sessions
Other sessions include how to use the equipment, tours of the space and school holiday activities. For more information on any of these sessions or for bookings, please see the library events page.
Please contact the Gympie Library to book.
The Makerspace in the Gympie Library is possible thanks to the Friends of Gympie Regional Library, Gympie Regional Council and the Queensland Government.
Scanner for Photographs, Slides & Negatives
Thanks to a Be Connected grant you now have access to a flatbed scanner in the Makerspace at the Gympie Library. Bring along a USB, your photos/slides or negatives and make digital copies of them. You will need to have computer skills to operate a Windows laptop.